Media & Entertainment
The media and entertainment industry is tremendously important to Nassau County's economy, and production companies here can easily tap into award-winning performers, creative and production artists, studio talent and crew. With its close proximity to Metro New York, its talent guilds and unions, and participation in the Empire State Tax Credit program, Nassau County is ideally situated to become a hub of top-quality TV, film, broadcasting, advertising, and streaming content production.
Image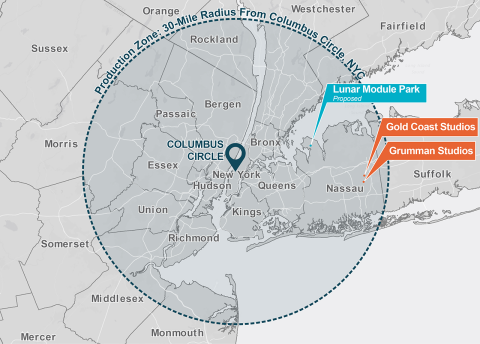 The County is home to two of the most advanced, state-of-the-art, New York State-approved sound stages – Gold Coast Studios and Grumman Studios, offering a combined 260,000 square feet of stage space. Companies choosing Nassau County often cite the spacious locations and quality of life that are nearly impossible to come by in the more congested and expensive nearby New York City boroughs.  Aside from great places to film including the Nassau County Jail, Gold Coast Mansions and beaches, one of our assets is that Nassau County is located within the 30-mile radius from Columbus Circle which are the boundaries set by several NYC unions, guilds and organization chapters defining the areas in which they will work.
Representative of Nassau County's passion for creative filmmaking there are numerous film festivals held throughout the year, most notably:
Nassau County's diverse environment provides for a wide range of filming location, from gold coast mansions to scenic beaches. Visit the County's Location Photo Gallery for a sample of all that we have to offer film producers.
For further information on utilizing Nassau County's diverse landscapes and facilities for your next production, please visit the Nassau County Film Commission.