Welcome to Nassau County! The western half of
Long Island in southern New York State.
Innovative industry   High-Tech infrastructure   Transit-oriented-development   Placemaking Mixed-use development   Global brand headquarters   Vibrant downtowns   Corporate and industry parks   Beautiful beaches   World-class golfing and fishing   Nationally ranked k-12 schools   Nassau County boasts all of that, and so much more. In conjunction with our many partners, the NCIDA is committed to fostering an environment where businesses can thrive and expand — and where our fellow residents are proud to live, employees come to work and everyone loves to play.
Nassau County delivers the best of all things—walkable downtowns, suburban charm, the nearby buzz of New York City, and one-step access to the world. Come to the place top-tier talent and innovative businesses call home.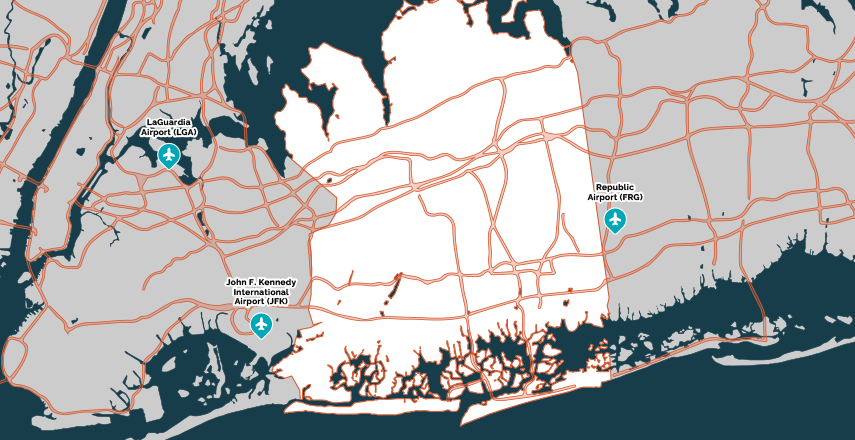 Explore Nassau County
An interactive map of Nassau County to help you navigate our neighborhoods, roads and highways, parks, schools, and more. 
COVID-19 resources
Find information on vaccinations, testing and programs to mitigate the effects of COVID-19 on our local economy.
Key industries
Learn about our diverse economy and workforce, and why Nassau County is the premier location for several major industry clusters.
Doing business here
Nassau County offers incomparable opportunities for businesses of all sizes and industries to thrive.
Living here
Nassau County offers residents the best of all things for living, working and playing.
Work with us
The NCIDA is always looking for qualified service providers and from time to time, may issue request for qualifications for various services.
Upcoming Events
RG Crossways Owner LLC Public Hearing
Tuesday, December 13, 2022 - 2:00 PM EST
Event details
WDP Management, Inc. Public Hearing
Tuesday, December 13, 2022 - 3:30 PM EST
Event details
Latest News
News 12: Nassau IDA votes to end property tax agreement with Amazon over lack of new jobs at Syosset warehouse
August 15, 2022
Read Article
Newsday: Union leader, engineer appointed to the Nassau IDA board
July 15, 2022
Read Article